Our Blog
Posts for tag: orthodontic treatment
By Steven R. Baker, DDS, PA
December 14, 2017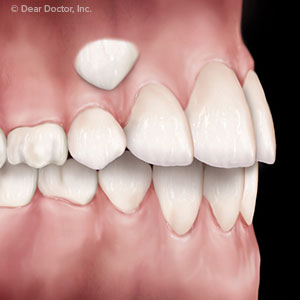 You don't have to be a dental professional to appreciate a beautiful smile. Likewise, you'll also know when something's not quite right with one.
Such can be the case when a tooth fails to erupt properly, causing most or all of the crown to remain below the gum line, a condition known as impaction. Upper canines (or "eyeteeth," for their location in the arch under the eyes) are especially susceptible to impaction: located on either side of the lateral incisors, which are on either side of the central incisors (the two center front teeth).
The upper canines are important both for function and appearance. Working with their lower counterparts they help cut through food as we chew, so you lose some of that efficiency when they don't erupt properly. Impacted teeth are susceptible to abscesses and cysts, and can impinge upon and damage the roots of other teeth. And just as importantly, their absence also disrupts the smile as nearby teeth tend to move or "drift" toward the open space.
Rather than remove the impacted canines as is often done with back teeth, it may be more advantageous for both function and appearance to "coax" them into full eruption. This requires first pinpointing their exact location below the gums using x-rays or cone beam 3-D imaging.
If the teeth are in reasonably good position we must first prepare them for orthodontic treatment by surgically exposing the crown from the gums and bonding a small bracket to it. We then attach a small gold chain to the bracket that extends outside of the gums when we suture them back into place. The chain is attached to orthodontic hardware that exerts pressure on the impacted tooth for several months to "pull" it out into the arch.
This procedure has the best chance of success if undertaken before the end of jaw development in early adulthood. Otherwise, it may be better to remove the impacted canines and replace them with dental implants, followed by orthodontic treatment of other teeth to restore their proper position and bite relationships. In either case, your impacted upper canines don't have to be a problem — we can restore both your mouth function and your smile.
If you would like more information on impacted teeth and treatment options, please contact us or schedule an appointment for a consultation. You can also learn more about this topic by reading the Dear Doctor magazine article "Exposing Impacted Canines."
By Steven R. Baker, DDS, PA
August 23, 2017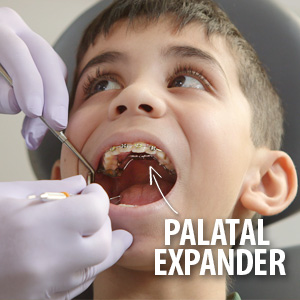 While crooked teeth are usually responsible for a malocclusion (poor bite), the root cause could go deeper: a malformed maxilla, a composite structure composed of the upper jaw and palate. If that's the case, it will take more than braces to correct the bite.
The maxilla actually begins as two bones that fit together along a center line in the roof of the mouth called the midline suture, running back to front in the mouth. The suture remains open in young children to allow for jaw growth, but eventually fuses during adolescence.
Problems arise, though, when these bones don't fully develop. This can cause the jaw to become too narrow and lead to crowding among the erupting teeth and a compromised airway that can lead to obstructive sleep apnea. This can create a cross-bite where the upper back teeth bite inside their lower counterparts, the opposite of normal.
We can remedy this by stimulating more bone growth along the midline suture before it fuses, resulting in a wider maxilla. We do this by installing a palatal expander, an appliance that incrementally widens the suture to encourage bone formation in the gap, which over time will widen the jaw.
An expander is a metal device with "legs" extending out on both sides and whose ends fit along the inside of the teeth. A gear mechanism in the center extends the legs to push against the teeth on both sides of the jaw. Each day the patient or caregiver uses a key to give the gear a quarter turn to extend the legs a little more and widen the suture gap. We remove the expander once the jaw widens to the appropriate distance.
A palatal expander is an effective, cost-efficient way to improve a bite caused by a narrow jaw, but only if attempted before the bones fuse. Widening the jaw after fusion requires surgery to separate the bones — a much more involved and expensive process.
To make sure your child is on the right track with their bite be sure to see an orthodontist for an evaluation around age 6. Doing so will make it easier to intervene at the proper time with treatments like a palatal expander, and perhaps correct bite problems before they become more expensive to treat.
If you would like more information on treating malocclusions, please contact us or schedule an appointment for a consultation. You can also learn more about this topic by reading the Dear Doctor magazine article "Palatal Expanders: Orthodontics is more than just Moving Teeth."
By Steven R. Baker, DDS, PA
July 01, 2015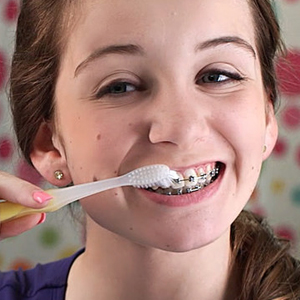 While braces are a tried and true method for achieving a more attractive smile, they may also give rise to problems with dental disease. This is because their hardware — the brackets and bands that serve as tracks for the tensioning wires — make it more difficult to access the tooth and gum surfaces to clean away plaque. This thin film of food remnant may then become a haven for bacteria that cause gum disease or tooth decay.
One of the more common conditions to occur while wearing braces is gingivitis. This is an initial inflammation of the gum tissues caused by bacterial plaque that hasn't been removed by brushing or flossing. As the inflammation grows unchecked, the infection could advance deeper into the tissues to become a more serious form of gum disease that threatens the survival of affected teeth.
Difficult as it may be for those wearing braces, the best way to avoid gingivitis is through more thorough oral hygiene practices. Fortunately, there are many hygiene products that can help you get around many of the access difficulties posed by braces. Smaller toothbrushes known as interproximal brushes and floss threaders, small aids that thread dental floss under braces wires, can access the spaces between teeth more readily than conventional brushes or floss. Water flossers (which use water under pressure to remove plaque between teeth) and motorized toothbrushes can further increase efficiency. We can also reduce bacterial growth in the mouth if need be with prescription-strength antibacterial mouthrinses.
If, however, gingivitis or gum overgrowth (another common occurrence during orthodontic treatment) continues to be a problem, we may need to take other actions including surgery. In extreme cases, the braces may need to be removed to adequately treat the gums and allow them time to heal before proceeding with orthodontics.
Extra care with daily hygiene and regular dental checkups and cleanings in addition to your orthodontic visits will help keep gum problems at bay while you're wearing braces. Taking this extra care will stop or minimize the effect of disease as you continue on to the ultimate goal of your orthodontic treatment — a more beautiful smile.
If you would like more information on dental care during orthodontic treatment, please contact us or schedule an appointment for a consultation.